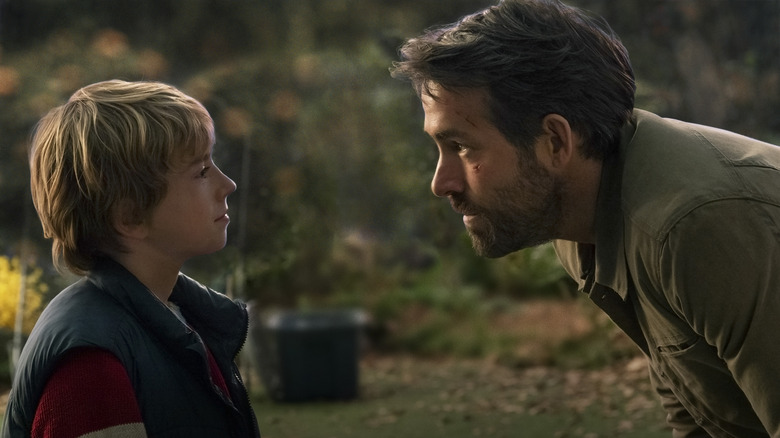 While I can be quite a mark for nostalgia in media, I understand the criticisms aimed at networks, studios, or filmmakers that tend to go overboard. Not everything needs a reboot or a sequel. And when a movie makes a reference to one thing that was popular back in the day, you don't necessarily need to squeeze in an overabundance of references to every single adjacent thing along with it. 
But when it comes to "The Adam Project," nostalgia comes rushing at you in a different way. Rather than being bombarded with a never-ending stream of call-backs and inside jokes onscreen, you're filled with the kind of feelings that arose from watching fan-favorite films of yesteryear. Not only are "Free Guy" director Shawn Levy and star Ryan Reynolds reuniting to send characters back in time to save the world, but the movie itself is like a time machine, transporting you back to a period in your life when a trip to the movie theater or the video store was your ticket to a world of yesterday, tomorrow, and fantasy.
About Time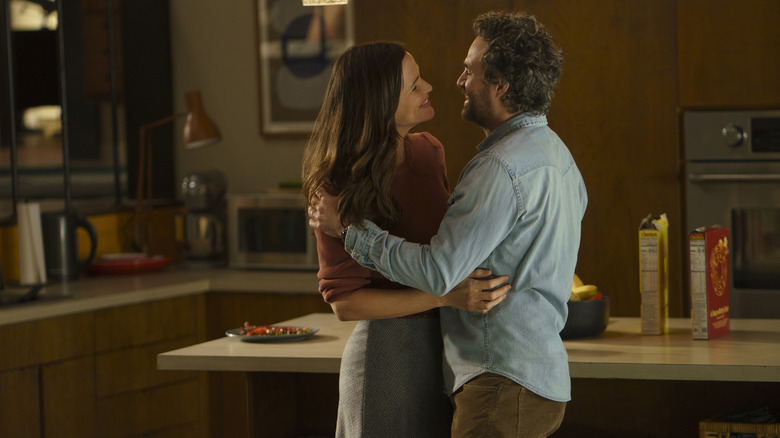 Touted as Netflix's next blockbuster family film, "The Adam Project" follows time-traveling pilot Adam Reed from the year 2050 as he accidentally crash-lands in 2022. While he recovers from his injuries, Adam enlists the help of his twelve-year-old self on a mission to fix a fractured timeline and set the future back on track. And while no one should learn too much about their own future, both Adams get some much-needed perspective about themselves and their family to have a much better present.
While the story written by Jonathan Tropper, T.S. Nowlin, Jennifer Flackett, and Mark Levin may seem like the sort of thing you've seen a million times before, it's the execution that really sells it — and it all starts with the cast. Ryan Reynolds is a gem as the older Adam Reed. He's always had impeccable comedic timing and sarcastic wit, even back in his "Two Guys, a Girl, and a Pizza Place" days, but his action chops have been expertly sharpened thanks to films like "Blade: Trinity," "Deadpool," and "Definitely, Maybe." Okay, maybe not that last one, but it's still a pretty good Ryan Reynolds movie.
Jennifer Garner and Mark Ruffalo do a great job as Adam's parents. Who knew that Elektra plus Hulk actually equals Deadpool? Speaking of Marvel heroes, though she doesn't have an extensive part in the movie, Zoe Saldana is not wasted in "The Adam Project." Not only is she integral to the plot, but when she shows up guns blazing, she certainly makes an impact. Likewise, Catherine Keener's Maya Sorian is an excellent villain looming in the background. I feel like Hollywood doesn't use her calm-yet-sinister hellish tendencies enough, but when they do ("Get Out" is but one example), she knocks it out of the park.
But the biggest surprise of the cast is Walker Scobell, who plays the younger Adam. I don't know how extensive the search was, but the casting department really nailed it since this kid is completely believable as a young version of Ryan Reynolds. He manages to replicate that impeccable comedic timing and sarcastic wit that I mentioned earlier to a T. But he also handles the big emotional moments really well. I feel like we'll be seeing a lot of Scobell in the future. "The Adam Project" is his first movie, so should he decides to continue acting, we could potentially get some incredible performances from him as he grows up.
Primer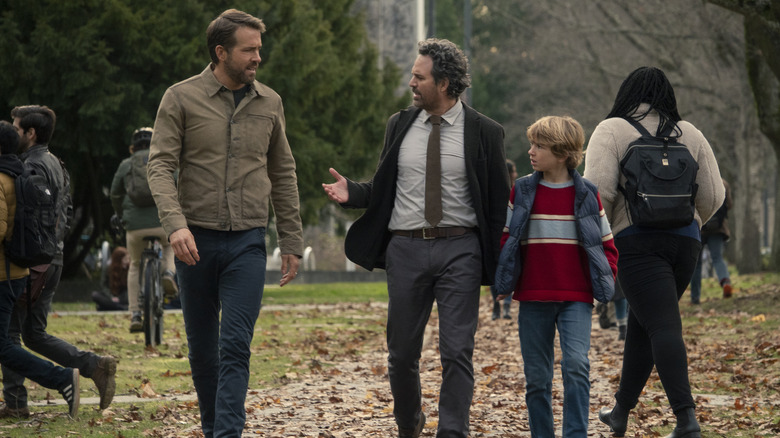 With a solid story and stellar cast in place, Shawn Levy captures a very specific vibe in this movie. He creates omething that reminded me of when I was a kid; when I had already seen classics like "Back to the Future," "E.T. the Extra-Terrestrial," and "The Goonies," and I wanted more of the same. They were the foundational films that many kids from the late '80s to the late '90s watched as they transitioned from kiddie fare to the more teen-focused adventures with more substance. 
Maybe you wanted something a little scarier like "Gremlins" or had a deeper message like "An American Tail" or even something a tad sexier like "Who Framed Roger Rabbit?" "The Adam Project" might be the closest thing kids today have to a classic Amblin Entertainment movie. Without a doubt, Levy's experience with "Stranger Things" helped him perfect the modern equivalent of this vibe.
Of course, Marty McFly and Steven Spielberg weren't the only clear influences in Levy and Reynolds' follow up to "Free Guy." George Lucas' original "Star Wars" trilogy was obviously a huge inspiration to the filmmakers here. At times this feels like Levy and Reynolds' audition tape to travel to a galaxy far, far away. Perhaps Kathleen Kennedy needs to see this movie and hit up Jon Favreau to bring in this pair to play in their sandbox. From a vintage overheard shot in a canyon, to a chase in the woods, to a killer lightsaber-esque fight sequences, Levy and Reynolds are totally ready to be a part of the "Star Wars" universe.
Back To The Future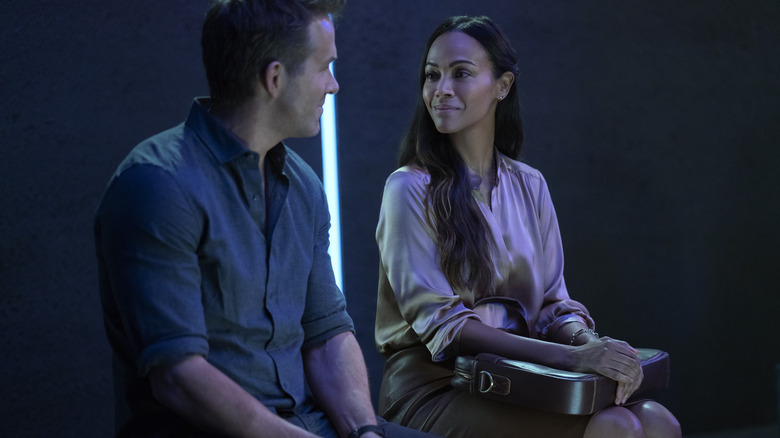 Speaking of "Star Wars," "The Adam Project" noticeably stumbles during scenes that utilize digital de-aging technology. I won't go into specifics so as to avoid spoilers, but let's just say that despite teaming up with Lola Visual Effects (the company that de-aged Michael Douglas in "Ant-Man" and Robert Downey Jr. in "Captain America: Civil War"), a certain de-aged character ended up looking more like Luke Skywalker in "The Mandalorian" and less like Luke Skywalker in "The Book of Boba Fett."  
This is an extremely small criticism in the grand scheme of things. The production design, the CGI, and the costumes were overall superb. I especially like future Adam's staff weapon, which he calls a "magsil." Think of it as the type of weapon Gambit from the X-Men would use if he were a Jedi — and the fight choreography with the staff gives the impression that's exactly what they were going for here. 
Whether you decide to watch it with your biological family, your found family, with your animal babies, or by yourself, "The Adam Project" is absolutely worth your time — there's definitely something here for everybody. And in an age where nostalgia can be shoved down your throat, let all those good nostalgic feelings wash over you and enjoy the Spielbergian vibes from a simpler time.
/Film Rating: 8 out of 10
Read this next: 13 Box Office Bombs That Are Truly Worth A Watch
The post The Adam Project Review: This Sci-Fi Adventure Hits the Right Amblin Notes appeared first on /Film.