A graduate of the Master of Professional Studies in Healthcare Design program at the New York School of Interior Design (NYSID), Amy Carter, NCIDQ, is now a professor for the program as well as an accomplished healthcare planner for Gensler.
In her work as both a planner and a faculty member, she always encourages having empathy and curiosity—and knows firsthand how listening for ideas and asking the right questions can transform a project. From understanding what the user's needs are to finding solutions that can alleviate any pain points, this ultimately leads to more impactful planning and design.
Meeting both patient and staff needs
 
Carter believes that improving the user experience begins with asking the right questions and actively listening to understand the various user journeys and client goals.
When Columbia University Irving Medical Center enlisted Gensler to design Columbia Primary Care Manhattan Valley — a new model for primary care that emphasizes patient experience with a friendly neighborhood vibe — Carter's team kicked off the project with a visioning workshop to establish ideal user experience goals in support of the client's vision to deliver exceptional medical care. Part of this process included leveraging Gensler's Outpatient Healthcare Experience Index, a study on the evolving state of consumer expectations and its impact on healthcare environments.
To design a new primary care model, it was important to understand the patient demographic and design for their distinct needs. They learned that the Upper West Side location brought a lot of families seeking pediatric care. "We knew we needed an area to park strollers and had to think about how the exam room could accommodate an infant as well as the parents, while making sure there's enough seating or a flexible seating arrangement."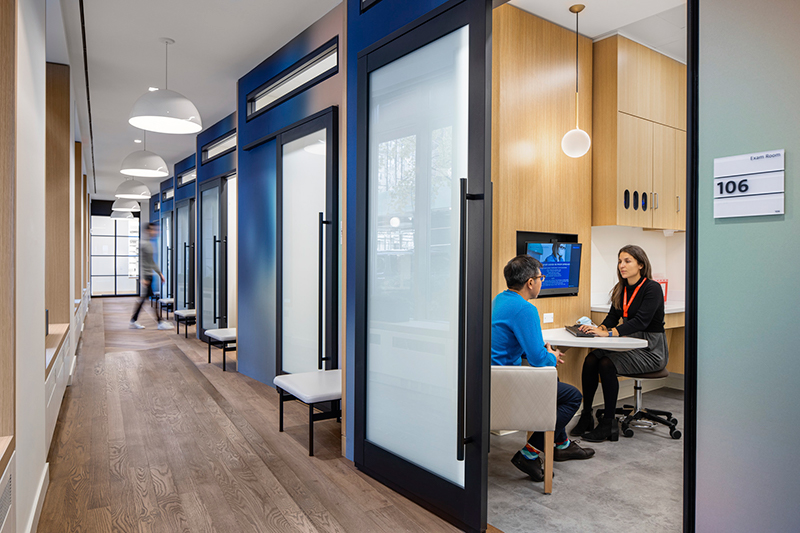 The design elements also reflect the local community with interior finishes and furnishings that convey the residential feeling of a warm Upper West Side townhouse, putting patients at ease when they walk in. Curated accessories, such as toys and games, in the lounge area by reception were also designed for the visitor population.
The staff journey was another important part of the program. In working with the client to identify how care team members would work together in a common workspace and what kinds of spaces they would need to be successful, it was clear they needed spaces conducive to collaboration and easily bringing services to the patient. To put the care team at the center, an on-stage/off-stage circulation model was adopted to separate patient and staff spaces. This allows a provider, phlebotomist, or specialist to enter and exit an exam room from the common workspace.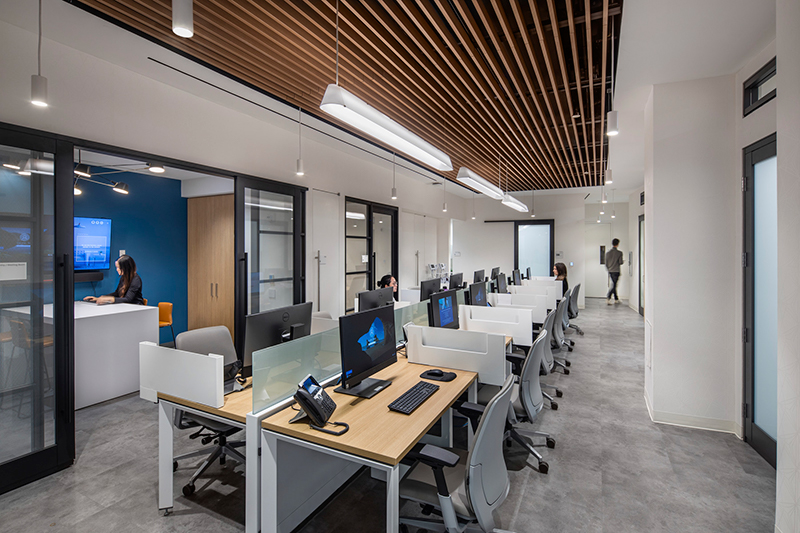 Understanding what drives a positive experience
 
Depending on the project scope, Carter will speak directly with patients through community engagement activities and patient surveys, hear feedback through the client of their patient population, and also utilize studies conducted by the Gensler Research Institute to create research informed design.
When it comes to designing a new outpatient healthcare user experience, Carter starts by asking questions about the present state to understand and map the existing patient, family, and care team journeys.
What is your experience like scheduling appointments and checking in? How do you prefer to schedule an appointment? Do you utilize your smartphone to schedule an appointment? "It is important to remember that the healthcare journey starts before you even enter the building."

After check-in, did you wait? Where did you wait, for how long, and how did you feel? "We're trying to move away from large waiting rooms by increasing clinical space, so that patients can get situated in an exam room versus sit near the reception—which also helps for infection control."

How comfortable are you in the exam rooms? Are you able to see the screen? "Information sharing is important so that you can be on the same page in terms of your next steps and your health plan."

Other questions to consider: Did the physician have their back to you? Did you have an eye-to-eye conversation? Where were you sitting in the exam room? Were you in a chair? Were you on the exam table? And how did that feel?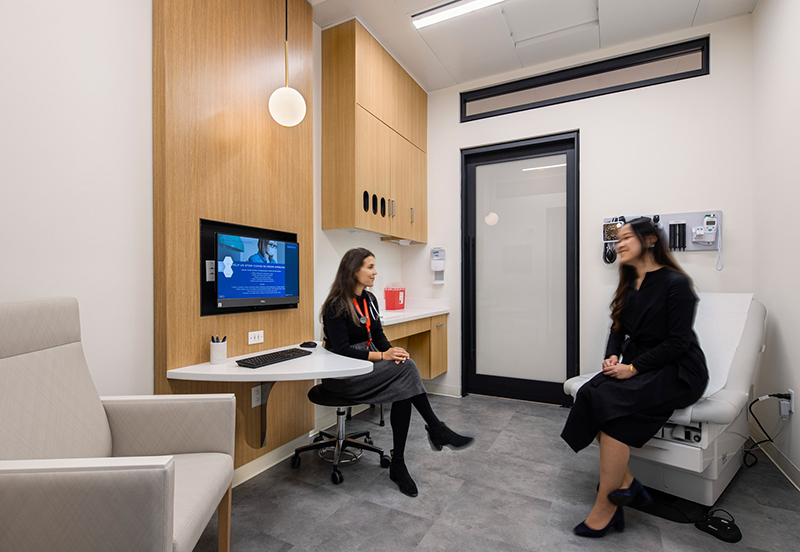 What to keep in mind as a healthcare interior designer doing healthcare planning
 
For Carter, it is important to remain engaged throughout the duration of the project, and to remember that one solution does not fit all.
"As I reflect on my time as a NYSID student, I value the understanding I gained of programmatic and operational requirements for a variety of healthcare departments. This has only strengthened my knowledge of designing for patients, families, care teams, and support journeys in distinct environments and meeting specific needs."
Right now, Carter's NYSID students are designing an oncology center—which is much different from a primary care space where people are coming in for their annual check-up and the visit is typically shorter, she says.
"What I enjoy seeing from students is the fresh perspective they bring to the table. That opens a lot of opportunity for innovation and how we can reimagine the delivery of care."
More about the MPSH at NYSID
 
Interested in earning your Master of Professional Studies in Healthcare Design? All classes are offered in the evening, and the entire program can be completed in just one year.
For information, visit nysid.edu/mps-h.