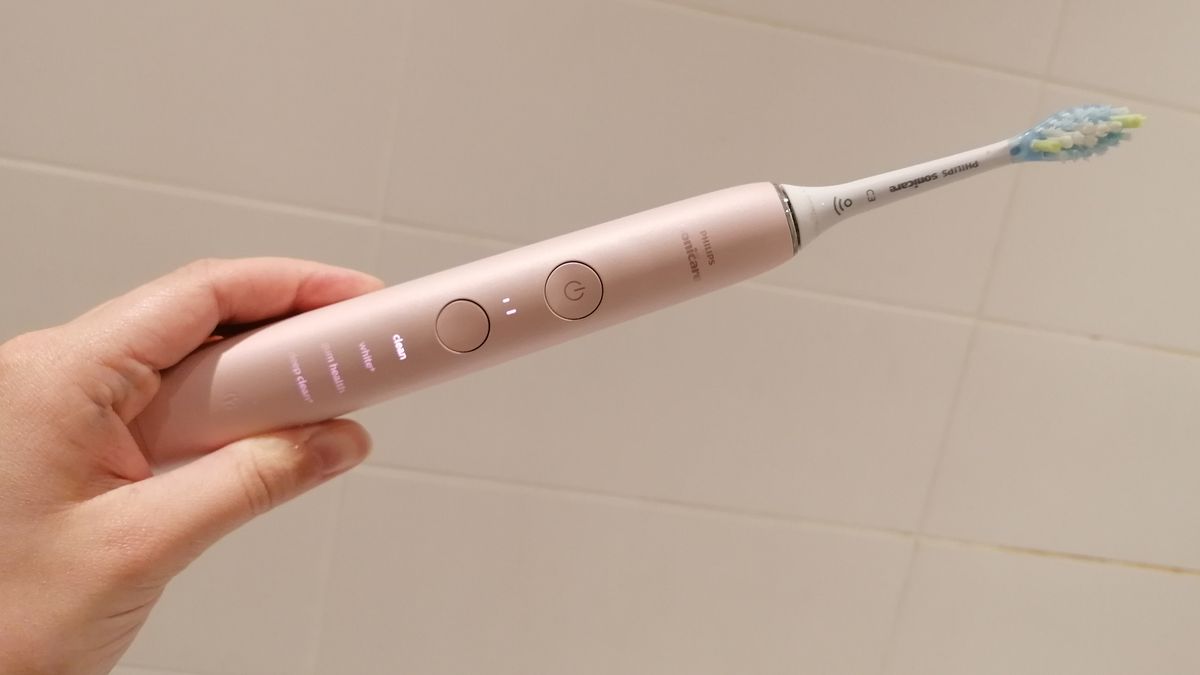 In this review of the Philips Sonicare DiamondClean 9000, we'll be analyzing the design, specs and performance of the electric toothbrush so you can decide in all confidence whether this is the right model for you. 
Philips's Sonicare is one of the biggest electric toothbrush brands, on par with Oral B. Both brands produce a range of electric toothbrushes ranging from basic budget options to premium, high tech products.
Phillips Sonicare DiamondClean 9000: Essential info
2-week battery life
Rechargeable battery
Comes with a USB charging case
Pressure sensor
Bluetooth app to track brushing habits
4 brushing modes, 3 intensities
2-minute timer
Available in pink or black
2-year limited warranty
Replacement heads cost $31.99 for a pack of 3
The Philips Sonicare DiamondClean 9000 fits into the later category, coming in at just shy of $200. It is very sleek and elegant and comes with a charging travel case, an automatic pressure sensor, four modes and three intensities, and a companion app to track your brushing. If you're interested in improving your oral hygiene and want to spend the money, this might just be the choice for you. 
So, is this toothbrush worth the money, or is it just a gimmick? We've tested it extensively so you can make your mind up yourself. You can browse other options in our guide to the best electric toothbrushes too.
Philips Sonicare DiamondClean 9000 review: Design
The Philips Sonicare DiamondClean 9000 is a beautifully sleek piece of kit that will look smart in any bathroom. The simple, elongated design of the body and the matte color are really pleasing. Some might be disappointed to learn that it is only available in two colors, though: pink or black. We tested the pink version, which is a pretty, very light matte pink.
As mentioned above, the toothbrush body is quite long and very smooth, and the slightly squared shape ensures the perfect grip. There is no silicone grip on the handle, but we didn't have any issues with the toothbrush slipping during brushing. The design of the toothbrush is really simple and stripped back, with only two buttons and a few icons on the body: one power button, and one to change the mode/intensity. The icons light up automatically when the toothbrush is picked up, so you can see what mode it is set to, whether Bluetooth is connected, and what the battery levels are like.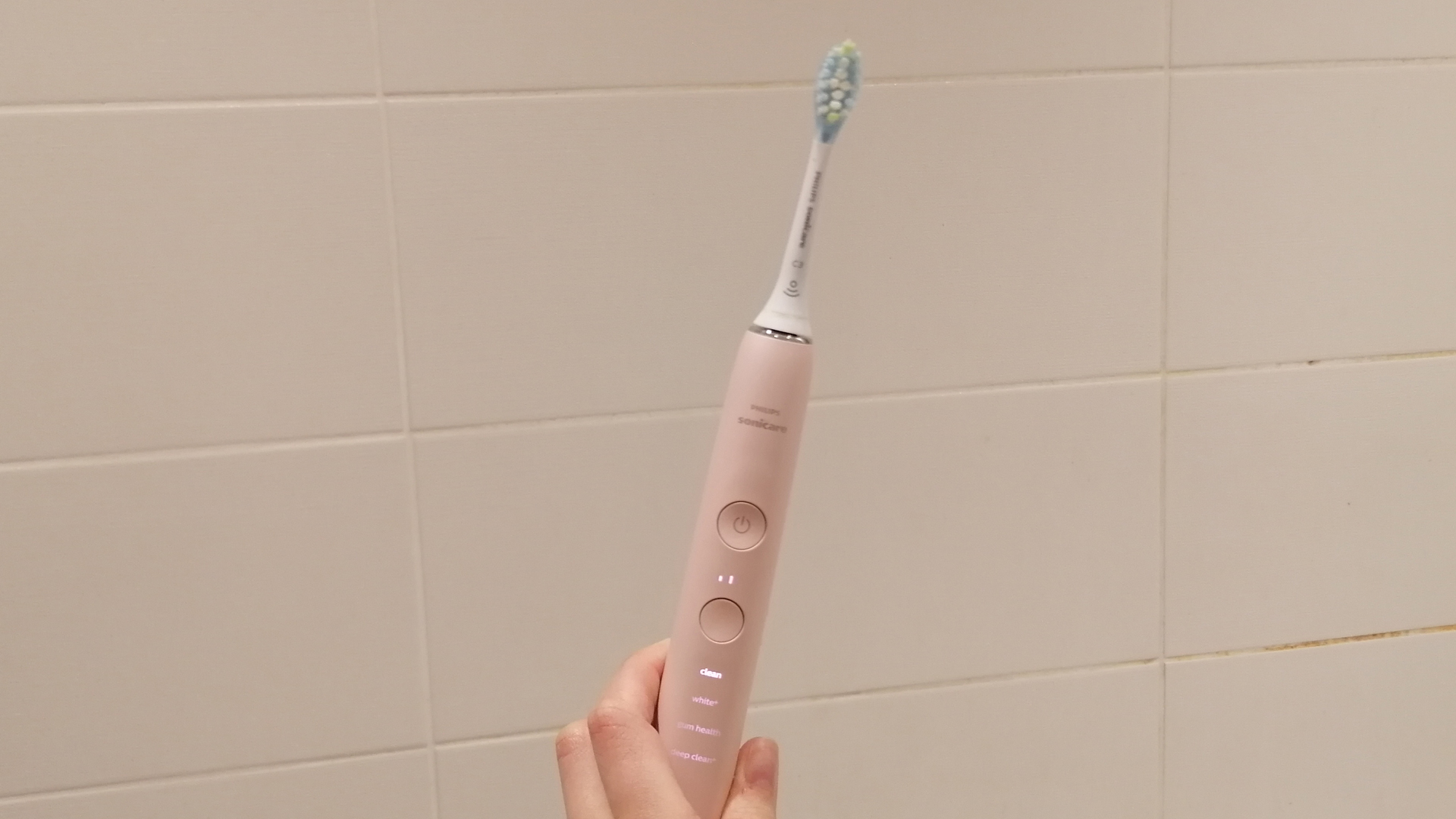 The Philips Sonicare DiamondClean 9000 comes with a removable head that you simply slot on to the body, which makes cleaning and maintenance easier. Similarly to the body, the 'neck' of the toothbrush (the part just below the head) is very long, definitely the longest we've ever seen on a toothbrush. This is a great feature that makes brushing hard-to-reach places really easy, and is convenient if you have a large mouth.
The compatible toothbrush heads are the C3 Premium Plaque Control heads, which are oval-shaped and on the smaller side of the scale. Philips claims these heads ensure 4 x more surface contact and up to 10 x more plaque removal from hard-to-reach spots based on two 2-minute brushing sessions a day.
As expected with an electric toothbrush, the Philips Sonicare DiamondClean 9000 also comes with a charger, which you just have to place the toothbrush onto and plug in to charge. Confusingly, there is a small clear piece of plastic to place onto the charger that fits the size of the toothbrush body – otherwise, you can't balance and charge the toothbrush. We were unsure why this wasn't already attached to the charger, but that might be for compatibility reasons.
One of the best features of the Philips Sonicare DiamondClean 9000 is the charging travel case. The case can fit the toothbrush as well as two replacement heads and also comes with a clear plastic cover for a toothbrush head. Conveniently, you can charge the case with a USB cable when you're travelling, which will in turn charge the toothbrush when it is placed in it. This is a great feature if you're often on the go. 
Philips Sonicare DiamondClean 9000 review: Functionality
The Philips Sonicare DiamondClean 9000 has four brushing modes: clean, white+, gum health and deep clean+. These are indicated as little light-up icons on the toothbrush body, and you can toggle between them by pressing the button below the power button. Initially, it can be confusing as the button is unmarked, and also regulates intensity once the toothbrush is powered on. You have to stop the brushing to switch modes.  
The four modes are described as follows on the Phillips website:
 Clean – For exceptional everyday cleaning 
 Deep Clean+ – For an invigorating deep clean 
 Gum Health – For special attention to molars 
 White+ – To remove surface stains 
We felt a definite difference between clean/deep clean+, the latter leaving our teeth feeling cleaner. However, over a few cleans, we didn't notice an enormous amount of difference between the other modes, except that Gum Health was a bit softer on the gums.
As well as these four modes, the toothbrush has three intensity levels, also signalled by light up icons on the body. You can flicker between the intensity levels by pressing the unmarked button below the power button while the toothbrush is running. We were pleasantly surprised by the considerable difference between the power levels, and the lowest level was very well suited to our sensitive gums.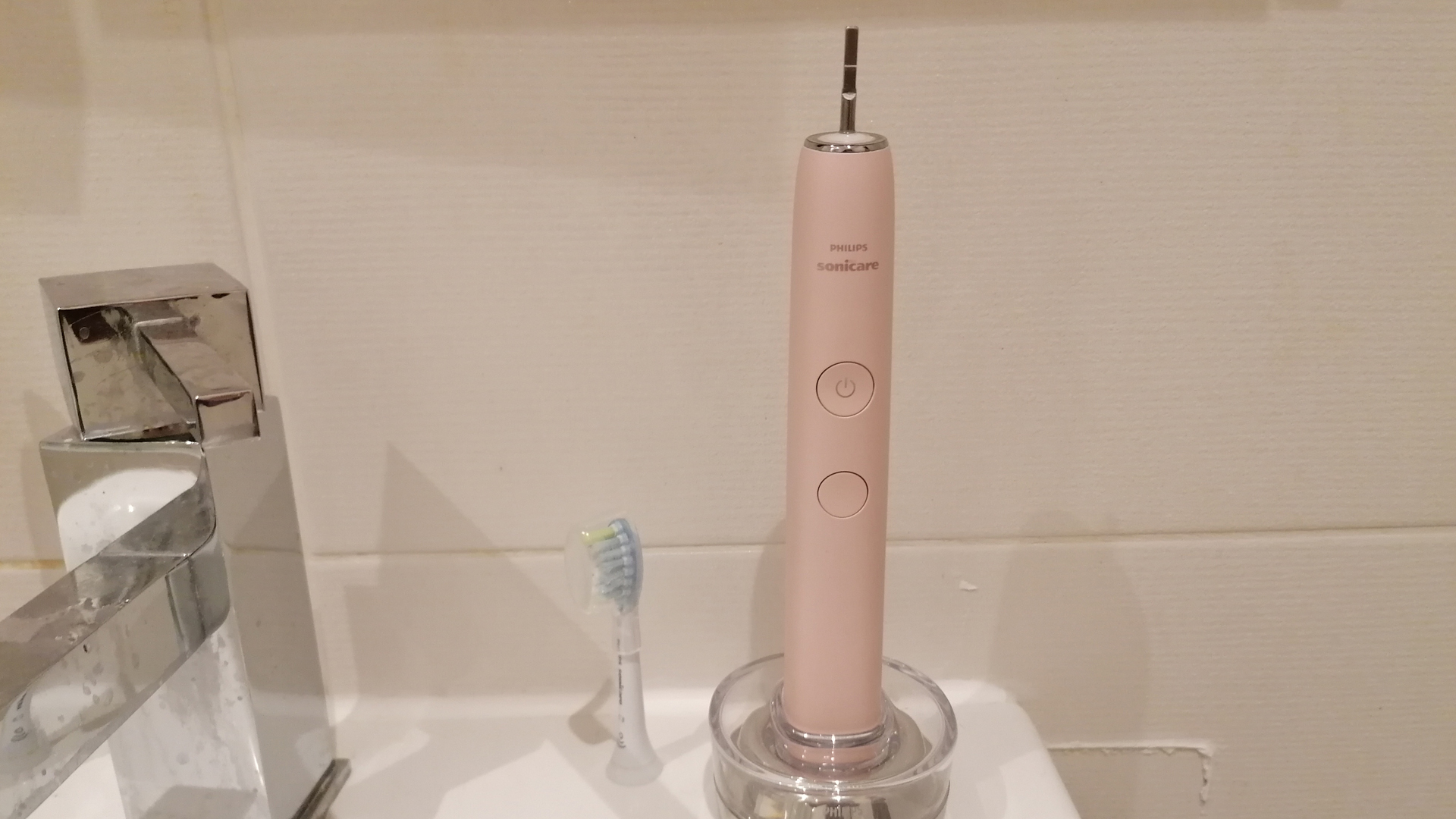 The toothbrush has a two-minute timer that vibrates every 20 seconds, unlike the usual 30 seconds on most other toothbrushes. This is actually really convenient, as you can separate the zones in your mouth into six as opposed to four, which makes keeping track of where you've brushed easier. The brushing automatically stops after two minutes, handy if you're prone to zoning out while you brush. 
The Philips Sonicare DiamondClean 9000 is easy to clean: after every use, simply detach the head from the body, give it a rinse, and scrub anything off the top of the body. Leave the head to airdry. 
You can pair the Philips Sonicare DiamondClean 9000 to the Sonicare app via Bluetooth, which sounds very high tech, but was actually a bit disappointing. It took about 10 minutes to first connect to the app, and once we did, we were disappointed by the functionality. If you select "Start brushing" on the app it just shows you a timer and a screen that says "keep brushing", without showing your brushing habits. It does rate the pressure you were applying once the session is done, which is useful. 
Once you're done brushing, it also takes a couple of minutes for the brushing session to sync to your phone, during which you need to stay close to the toothbrush – inconvenient if you're in a rush. Annoyingly, it's also not possible to use your phone for anything else while you're using the app if you don't want to "lose" your brushing session. 
The app is useful as it shows you a calendar view of when you brushed and how long for, but we felt this could have been recorded in a much simpler way, on a habit tracker for example. The app also contains some brushing tips which can be handy if you're interested in improving your technique, but it doesn't show you what you're doing wrong. For the price, we felt a bit short-changed by this app.
Philips Sonicare DiamondClean 9000 review: Performance
This sounds obvious, but the first time we tried it, the Philips Sonicare DiamondClean 9000 made our teeth feel really clean. It was a definite upgrade from our previous electric toothbrush, a $40 simple model. As mentioned above, the difference between each mode wasn't too obvious, but the deep clean+ and white+ felt a bit stronger and more effective. However, for someone with sensitive gums like us, these modes are a bit harsh – the clean and gum health felt better for everyday use. 
The toothbrush head is a C3 Premium Plaque Control head, which Philips claims removes more plaque and reaches more places than others. We did notice that brushing harder to reach areas was really easy with this toothbrush, but that was also due to the elongated toothbrush neck. The slim oval shape of the head was convenient for someone with a smaller mouth like ours, and the app seemed pleased with how much surface we were covering when brushing.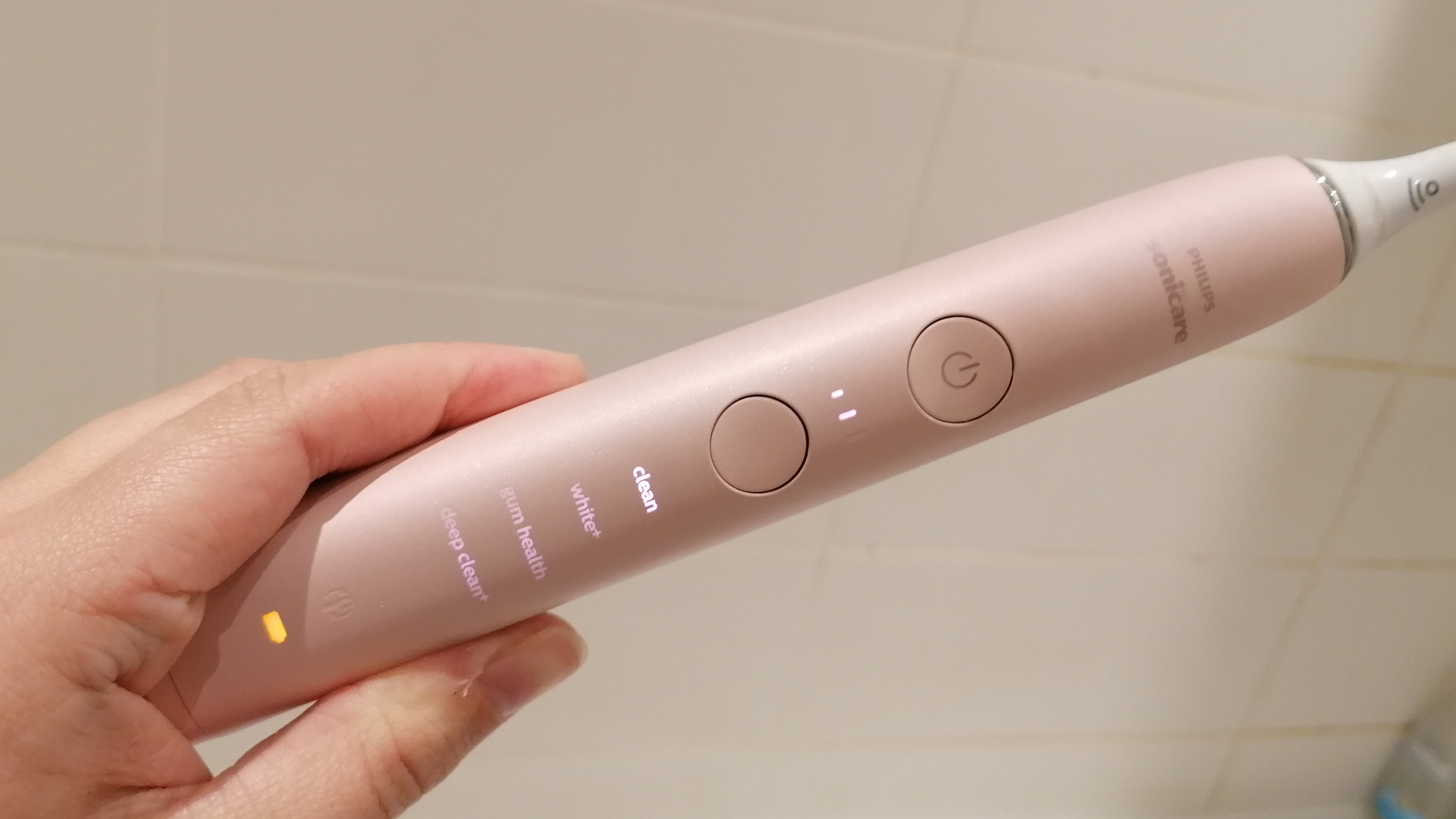 One of the best things about this toothbrush is how quiet it runs. On the lowest intensity levels, it runs at about 45 decibels, the same as a quiet library, going up to about 60 decibels on the highest intensity setting, similar to an office. The difference between the levels is also very significant, which means you can tailor your brushing to your needs. 
As with most electric toothbrushes, the Philips Sonicare DiamondClean 9000 is very water-resistant and survived being left underwater for 30 seconds without a problem. The handle is also quite sturdy and easy to clean, so longevity shouldn't be an issue. 
Philips claims the battery life on this model is two weeks, and it totally checks out. We used it twice a day for 16 days without having to recharge, so we're very confident taking it on a trip without the charger. The case it comes with can charge with just a USB cable anyway, so battery life is definitely not a concern.
Philips Sonicare DiamondClean 9000 review: What's good about it?
We love the ergonomic shape of the Philips Sonicare DiamondClean 9000 toothbrush. It's really smooth and satisfying to hold, but also looks great on your bathroom shelf. It's not a toothbrush you'll want to hide! The design of the brush head is also really practical and allows you to brush the back of your mouth really easily. 
The toothbrush performs well at brushing and is really adaptable to your needs, with four modes and three intensity levels. For someone with sensitive gums, like this writer, we were pleased to see that the lower intensity level really was low, which avoided irritation and bleeding. The app is a nice touch if you're interested about your brushing habits, and the charging case is a great gadget for travelling.
Philips Sonicare DiamondClean 9000 review: What's not so good about it?
Honestly, we struggled with this section. Perhaps our biggest complaint was that the app that comes with the toothbrush is not as feature-rich as its competitors, such as Oral-B. While the app records how long and how often you brush your teeth for, and rates the pressure you use, it doesn't record where you've brushed and where you might need to focus a bit more. It also takes a while to sync, which is annoying if you need to get somewhere.
Another drawback is the limited number of colors this toothbrush comes in, with a simple choice between pink and black. If you care about aesthetics and neither of these fit your bathroom, you might have to look elsewhere.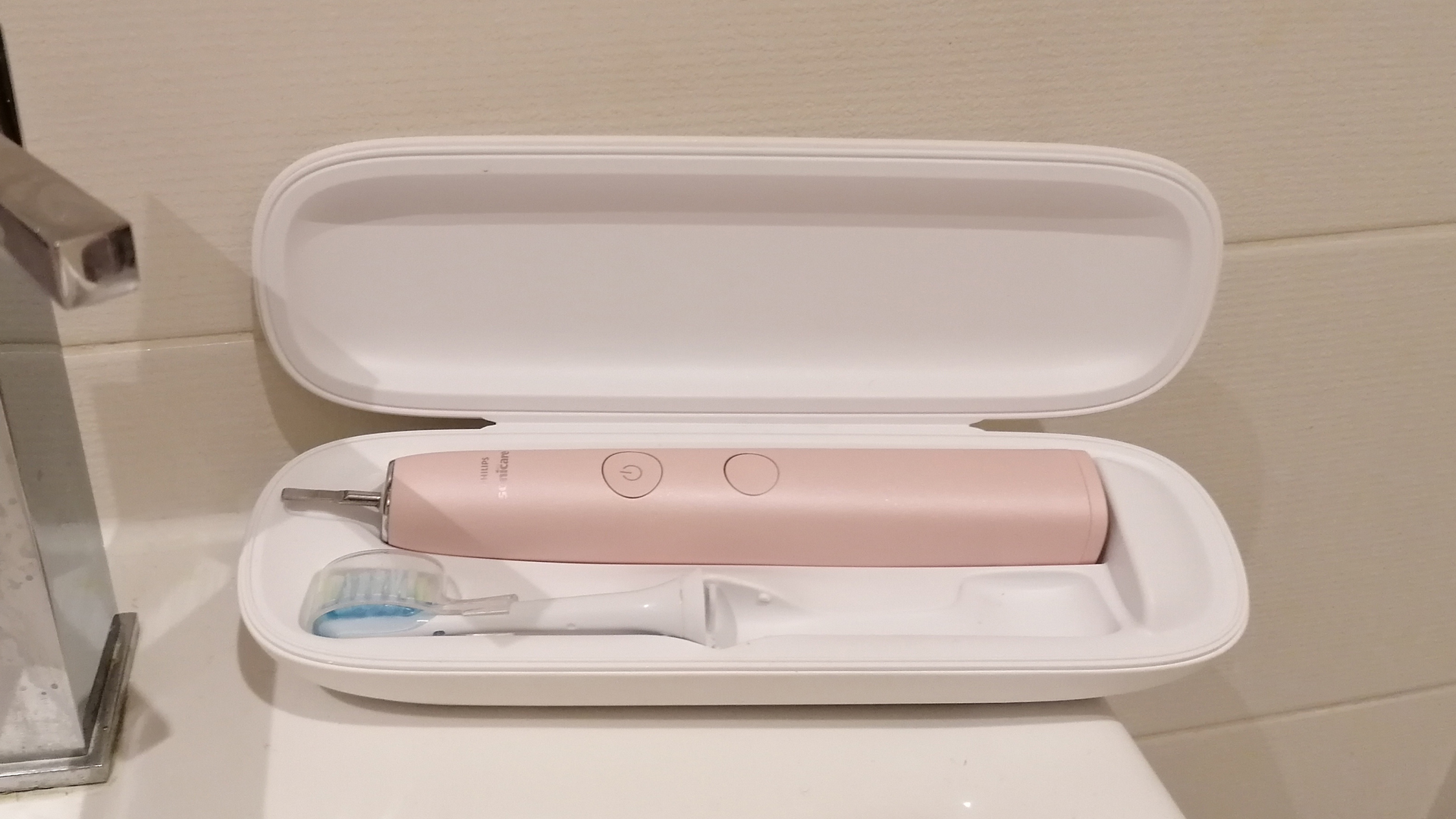 Philips Sonicare DiamondClean 9000 review: User reviews
The Philips Sonicare DiamondClean 9000 scores an impressive 4.7 stars out of five on BestBuy, from 216 ratings. Positive reviews rave about the battery life, the efficiency of cleaning, and the elegant look, with one user saying, "This is an excellent buy if you want to have a long lasting electronic toothbrush that helps you get that white smile you want." Negative reviews mention the high price, and the fact the toothbrush is perhaps not as durable as desired.  
Should you buy the Philips Sonicare DiamondClean 9000?
If you're looking to invest in a premium electric toothbrush and are interested in improving your oral hygiene, the Philips Sonicare DiamondClean 9000 is really worth it. You get an elegant device that's efficiently designed to provide an in-depth clean, and the companion app is useful to show you your brushing habits. However, if you're not interested in the looks and just want a toothbrush that will do the job, don't bother spending almost $200 on this product.  
If this product isn't for you
If you want an even more high-tech electric toothbrush, try the Oral-B Genius X. It comes with an app that tracks your brushing habits and gives you personalized coaching tips to improve your oral hygiene.
If you're on a budget, the Foreo ISSA 3 sonic toothbrush could be a good choice for you. It's got a quirky design and a 365-day battery life, and costs less than half of the Philips Sonicare DiamondClean 9000. It's also a bit more environmentally-friendly, as you only have to change the head every six months and rarely have to recharge it.