Well, Kid Cudi chose violence this morning!
The Day 'N' Nite rapper began his day by making it very clear that despite a new collaboration coming with Kanye West, he is NOT on Team Ye these days!
The song in question is an as-yet-unnamed track on the upcoming Pusha T album. When the tracklist was released, it was revealed Ye and Cudi (real name Scott Mescudi) had worked together — and apparently the X star wanted to be very clear this was NOT a recent collaboration! He tweeted Tuesday morning:
"Hey! So I know some of you heard about the song I got w Pusha. I did this song a year ago when I was still cool w Kanye. I am not cool w that man. He's not my friend and I only cleared the song for Pusha cuz thats my guy. This is the last song u will hear me on w Kanye -Scott"
"The last song"?! Man, it doesn't get more definitive than that. He full on cut ties with the man!
This is a huge deal as Ye was instrumental in boosting Cudi's career by signing him back in 2008 to his GOOD Music label. They've collaborated many times over the years, including as the duo Kids See Ghosts, a name under which they released a full album in 2018. But apparently Ye's latest antics were too much for the rapper/singer/producer/actor/generally ridiculously talented individual.
Related: Kanye Posts Ominous Poem About Death
For a little background, Cudi is friends with Pete Davidson, which is of course the unforgivable sin for Ye, who has spent months harassing and intimidating ex Kim Kardashian and the SNL star, her first new boyfriend since the divorce. After not putting anything into the marriage, the news of her moving on with an actual guy was seemingly too much for Kanye, who suddenly decided he was going to get her back, whether she wanted that or not. He started cyber-bullying Pete, telling his fans to antagonize the comedian, even murdered his effigy in music videos.
Back in February, the Power rapper announced in a since-deleted Instagram post that Kid Cudi "will not be on Donda because he's friends with you know who." Cudi responded at the time:
"Too bad I don't wanna be on ur album u f**kin dinosaur hahaha "
He later tweeted at Ye, after the deletion of the whole exchange:
"We talked weeks ago about this. You're whack for flipping the script and posting this lie just for a look on the internet. You ain't no friend. BYE."
After that, Kanye posted a pic of them all together in happier days, writing:
"I JUST WANTED MY FRIEND TO HAVE MY BACK THE KNIFE JUST GOES IN DEEPER"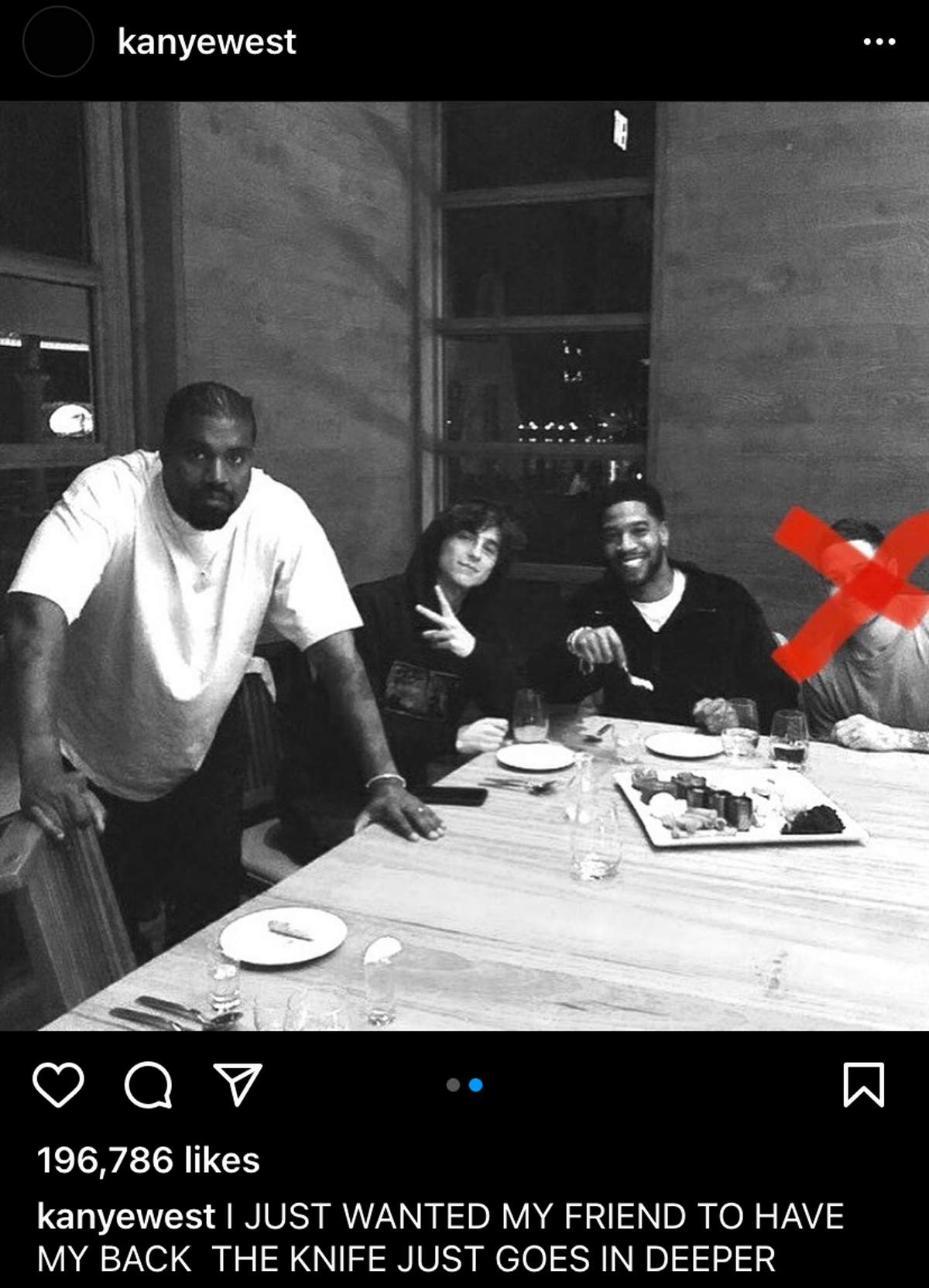 Inneresting that Kid Cudi is dug in enough that he didn't want anyone to think for even a minute that he was back collaborating with Ye again! Not that we can blame him considering…
Naturally, Ye's fans have been reasonable and respectful about this beef… Nah, we're just kidding, they've been AWFUL to Cudi in the comments, of course they have! They immediately started attacking him and his friend "Skete" because they're lovely, mature folks.
Look, at the end of the day, it just wasn't possible to be loyal to both men. And one of them is just in the wrong here, plain and simple.
[Image via Zibi/WENN/NBC/YouTube.]