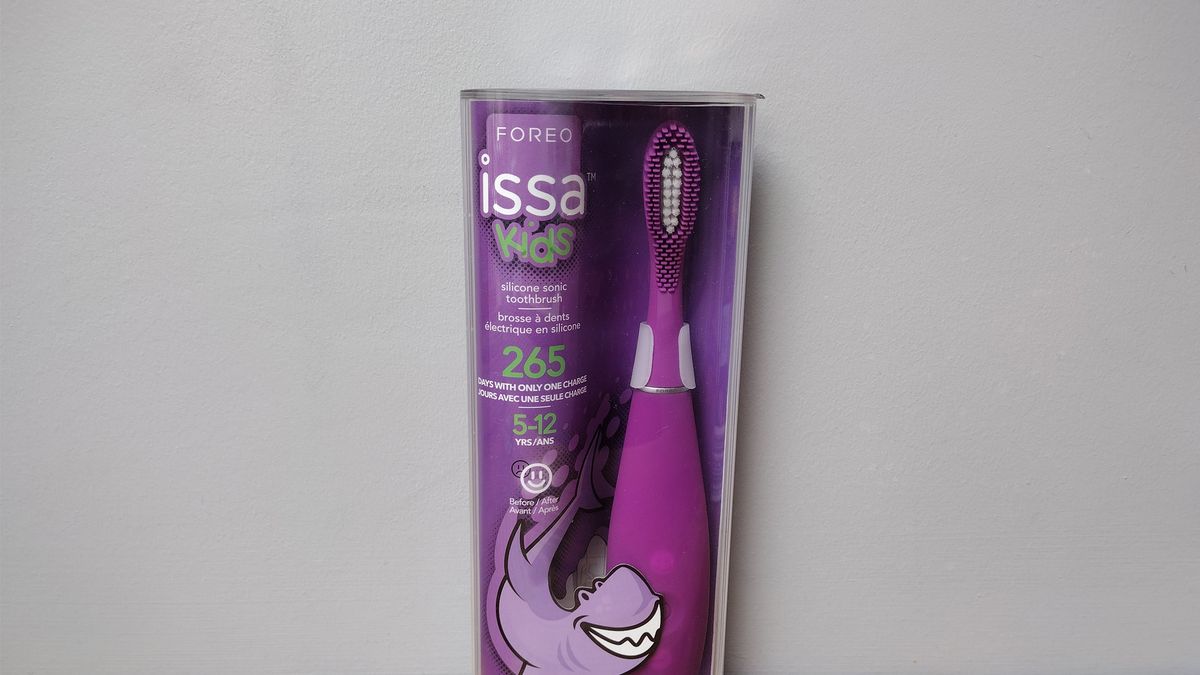 Foreo prides itself on creating beautifully designed toothbrushes for adults, and now they've done the same for kids. The Foreo ISSA Kids electric toothbrush, suitable for children aged 5-12 years old, is just as stylish and ergonomically designed as its adult-focused counterparts.
Featuring a smooth and silky silicone handle and brush head, the Foreo ISSA Kids does away with traditional bristles and instead opts for shallow silicone bristles that gently thrum, giving a kinder, gentler clean to little teeth and gums. 
Foreo ISSA Kids: Essential info
Ultra-hygienic silicone 
Quadrant pacing 
Sonic pulsations
265-day battery life
In-built 2-minute timer
Choice of four colors
2-year warranty
Suitable for kids aged 5-12
Brushing reminder feature
Medical-grade BPA and phthalate-free silicone 
What's more, the Foreo ISSA Kids promises to give a whopping 265 days of use on just one hour of USB charging, so it's cheaper to run in the long term than many other electric toothbrushes. 
This review takes a closer look at the Foreo ISSA Kids, its stand-out features and functionality, as well as how it performed in our at-home testing. We'll also take a look at the latest user reviews to see what customers have said about their Foreo toothbrushes. 
And if you're not sure whether the Foreo ISSA Kids is the right toothbrush for your little one, our buying guide to the best electric toothbrushes for kids will have something to suit.  
Foreo ISSA Kids review: Design
The Foreo ISSA Kids is one of the most stylish kids' toothbrushes on the market. Available in four bright colors – rose nose hippo, true blue pony, mellow yellow gator, and merry berry shark – there's a color to suit every child. 
The ergonomically designed handle and head combine regular bristles and soft, flexible silicone bristles which continue a little way down the neck of the toothbrush head. The head is angled forward slightly, which Foreo says helps to target the back teeth more effectively during brushing. At the rear of the head are five ridges, designed for cleaning the tongue and inside of the cheeks. 
The whole of the handle and the head are encased in a soft, silky silicone, which feels super nice and gives a good grip, even with wet hands. The toothbrush is also very light and fairly short, making it easy for smaller hands to grasp and maneuver.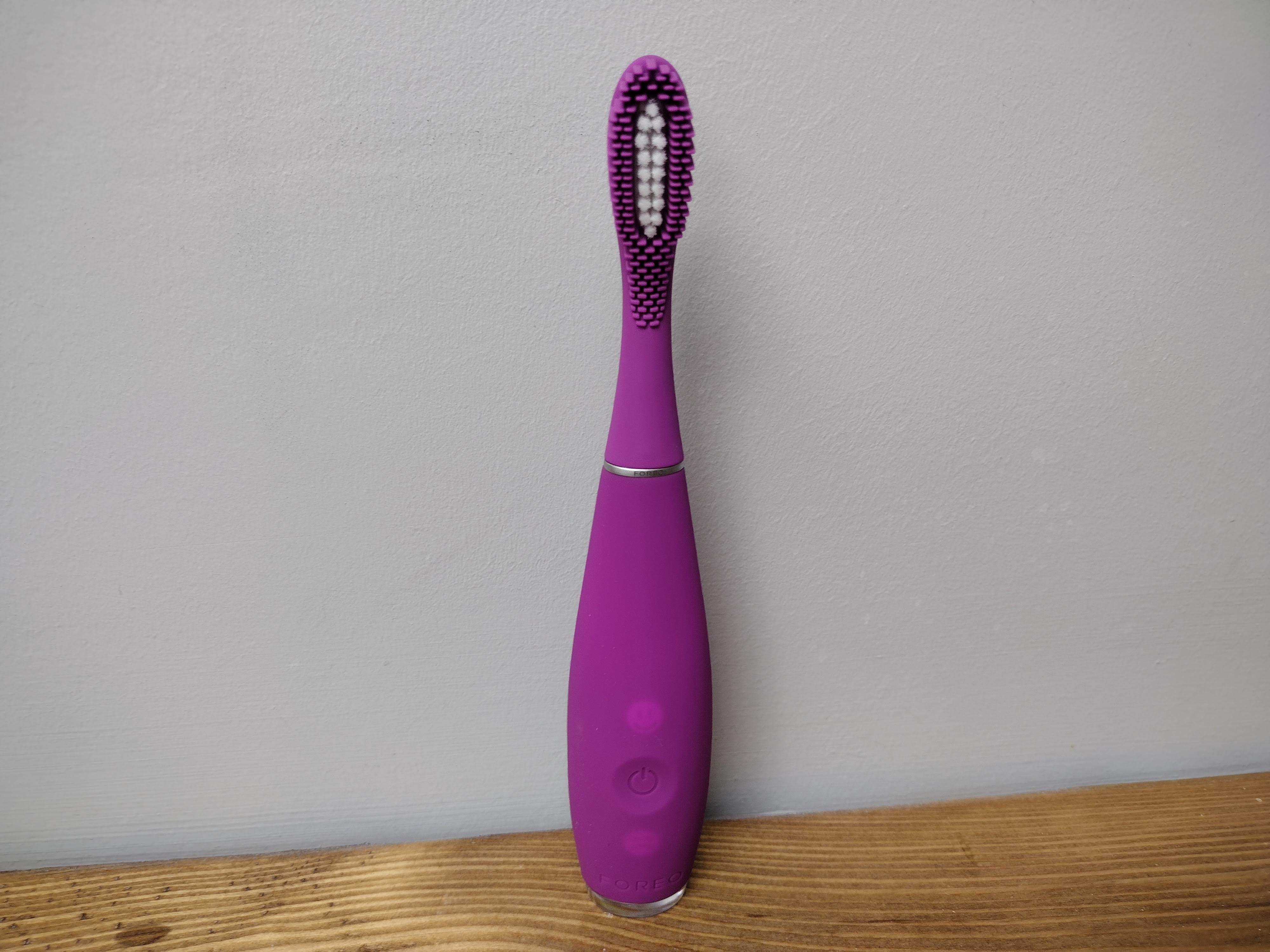 At the rear base of the handle is a little charging hole, cleverly hidden and protected from water damage by a flap of silicone. Below this, a clear plastic base flashes during charging and while the toothbrush is in operation. 
A single power button makes the handle easy to control and operate. Above and below this power button are 'Glee' and 'Glum', two light up faces which appear depending on your child's brushing habits. Glee appears as a smiling face at the end of two minutes of brushing time, while Glum appears as a sad face if your child hasn't used their toothbrush in 12 hours. 
Overall, this toothbrush has a sleek and expensive look and feel. Not surprising, given that it's right at the top end of the market for kids' toothbrushes. 
Foreo ISSA Kids review: Functionality
The Foreo ISSA Kids is simple to use and operates straight out of the box as it comes charged and ready to go. Simply press the power button to get going.
The Foreo ISSA Kids works like a regular manual brush that vibrates, so you, or your child, will need to brush their teeth just as you would with a regular toothbrush. No holding the brush against the teeth and letting it do all the work. 
Every 30 seconds, the brush pauses and the base light flashes. The idea is to prompt your child to move to a new quadrant of the mouth. However, it's so subtle, it's easy to miss, so some kids may forget to move the brush around.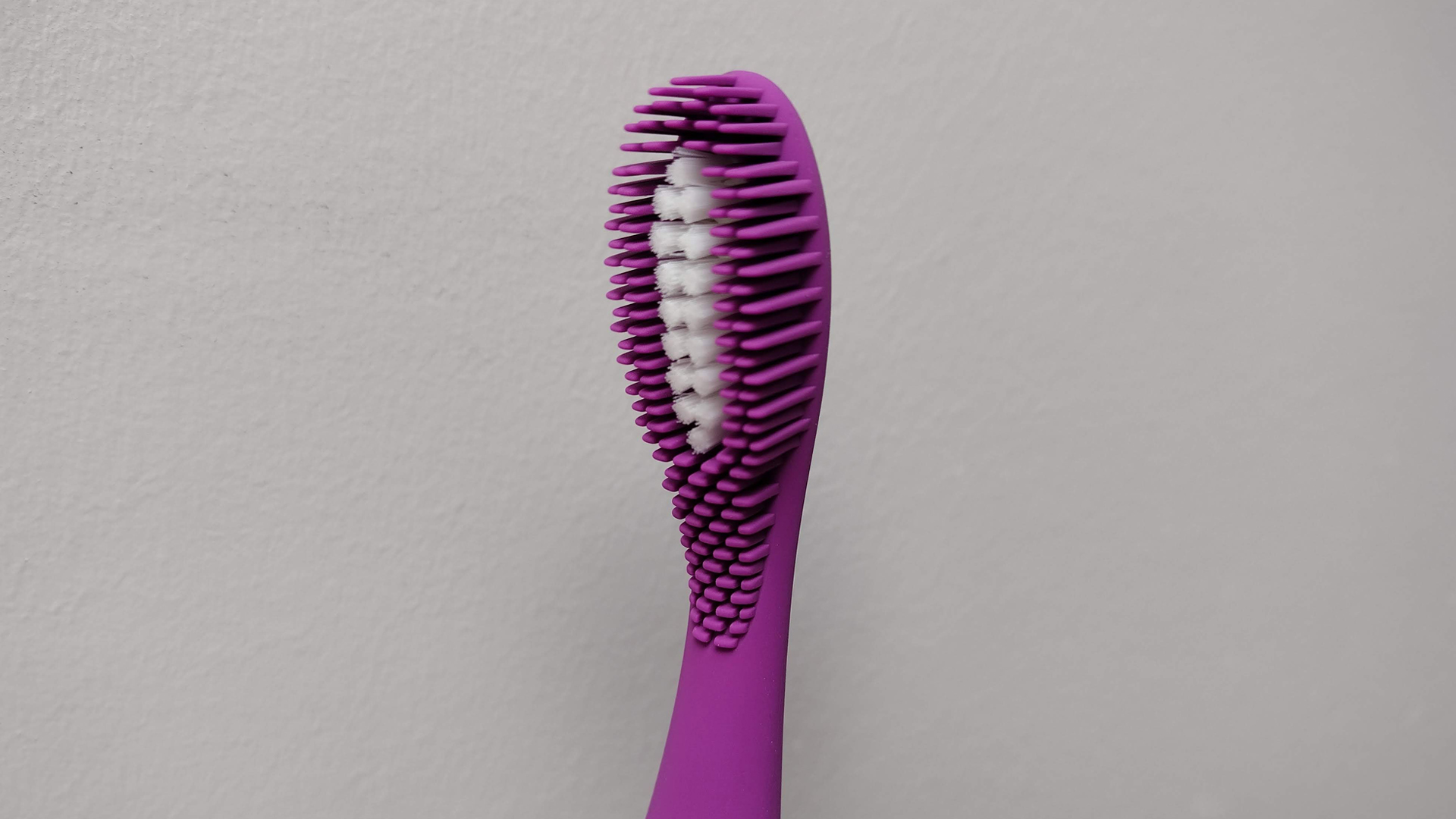 The brush also flashes and pauses at the end of the recommended two minutes of brushing time, and happy face Glee appears. Again, if your child isn't paying attention, it may be hard to miss this cue to stop brushing. 
Although replacement brush heads may be hard to track down, and expensive to replace, the good news is that brush heads only need to be replaced every six months, rather than the usual three months. 
Foreo ISSA Kids review: Performance
At around 35 decibels, somewhere between the volume of a whisper and a very quiet library, the Foreo ISSA Kids is one of the quietest kids' toothbrushes we tested at home. This is because it uses sonic technology to clean teeth, as opposed to the more mechanical oscillating-rotating toothbrushes, like the Oral-B Kids electric toothbrush. This quieter operating volume may be particularly good for younger children, or children with sensitivity to loud noises.
The gentle cleaning power of the Foreo ISSA Kids, and the unusual shape of the toothbrush head, may take some kids a bit of getting used to. However, the tongue scraper on the rear of the toothbrush head is handy, especially after a popsicle!
Where Foreo really stands out from the crowd, however, is its ability to run for 265 days on a single hour's charge. This is incredible, and makes it a great toothbrush for traveling with. Do try to remember where you store the charging lead, though, as it may be hard to track down when you do eventually have to recharge. 
The silicone casing is also completely waterproof. To test this, we submerged it in bathwater for a full brushing cycle before using it later that night. It worked perfectly without any problems.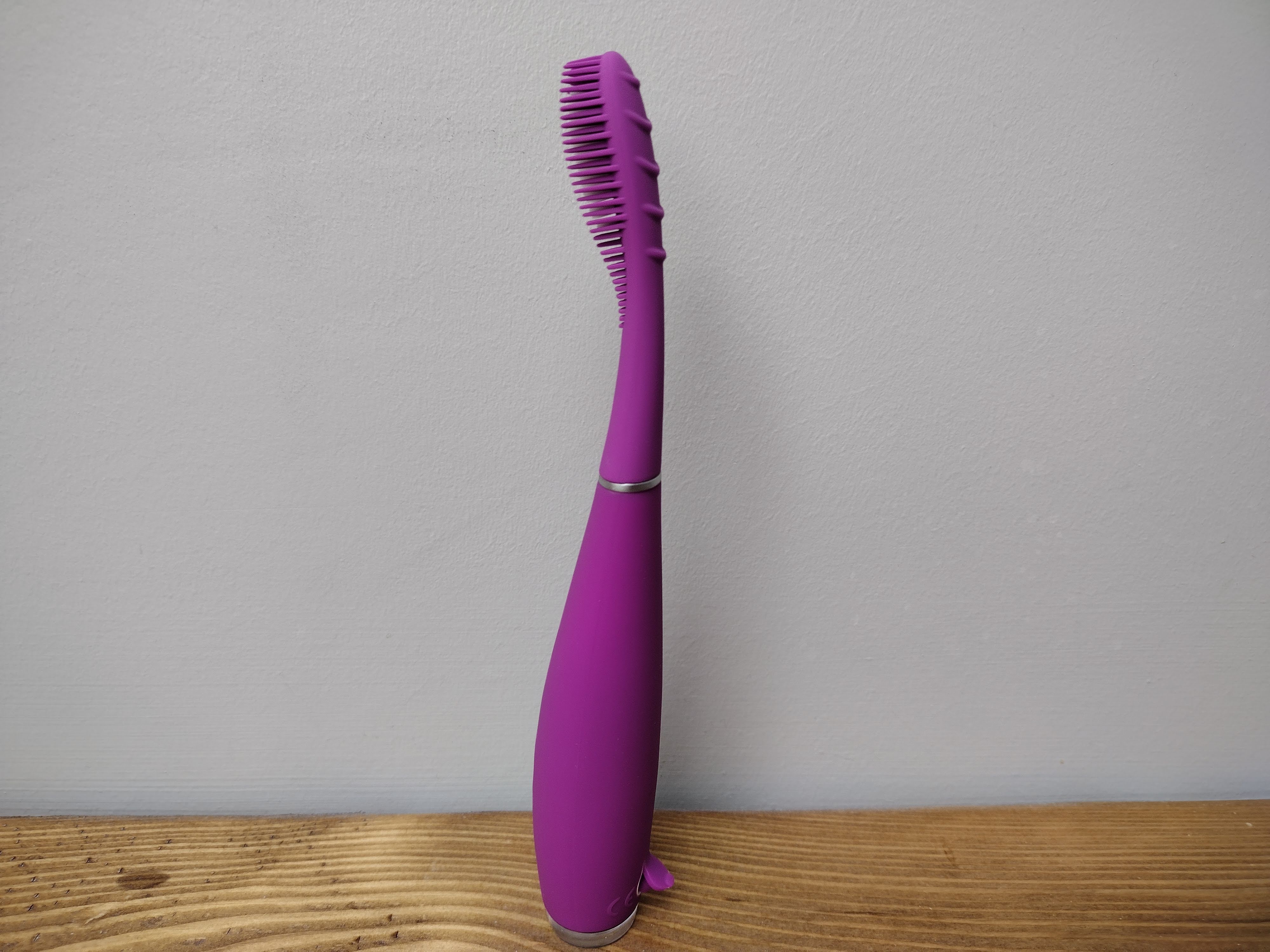 Foreo ISSA Kids review: What's good about it?
The fact that this is a seriously stylish toothbrush means that it will stand the test of time with your child, right up until they're 12 in fact. There's no need to keep up with the latest movie-themed toothbrushes, or upgrade to a new toothbrush every time your child grows out of their latest fad. 
We also loved the feel of the silicone casing. It's velvety soft and very tactile, which little hands love. Plus, the choice of bright colors make it a cheerful addition to any bathroom. 
It's also super quiet during operation, which can be a great bonus if you have a child who is sensitive to noise.  
Foreo ISSA Kids review: What's not so good about it?
The toothbrush comes with just one brush head. If you have two children who want to use the brush, you'll need to purchase more, and they can be expensive and hard to track down.
Not all children will get on with the silicone bristles, especially if they're used to a standard toothbrush. And you may have to remind them that they need to move the Foreo ISSA Kids around like a regular brush, which is easy to forget if they're used to another electric toothbrush that does all the hard work for them. 
We found that the quadrant pacing and in-built timer cues were easy to miss because they were so subtle. A louder or more obvious reminder, and an auto-finish, would be a great addition to what is an excellent brush otherwise.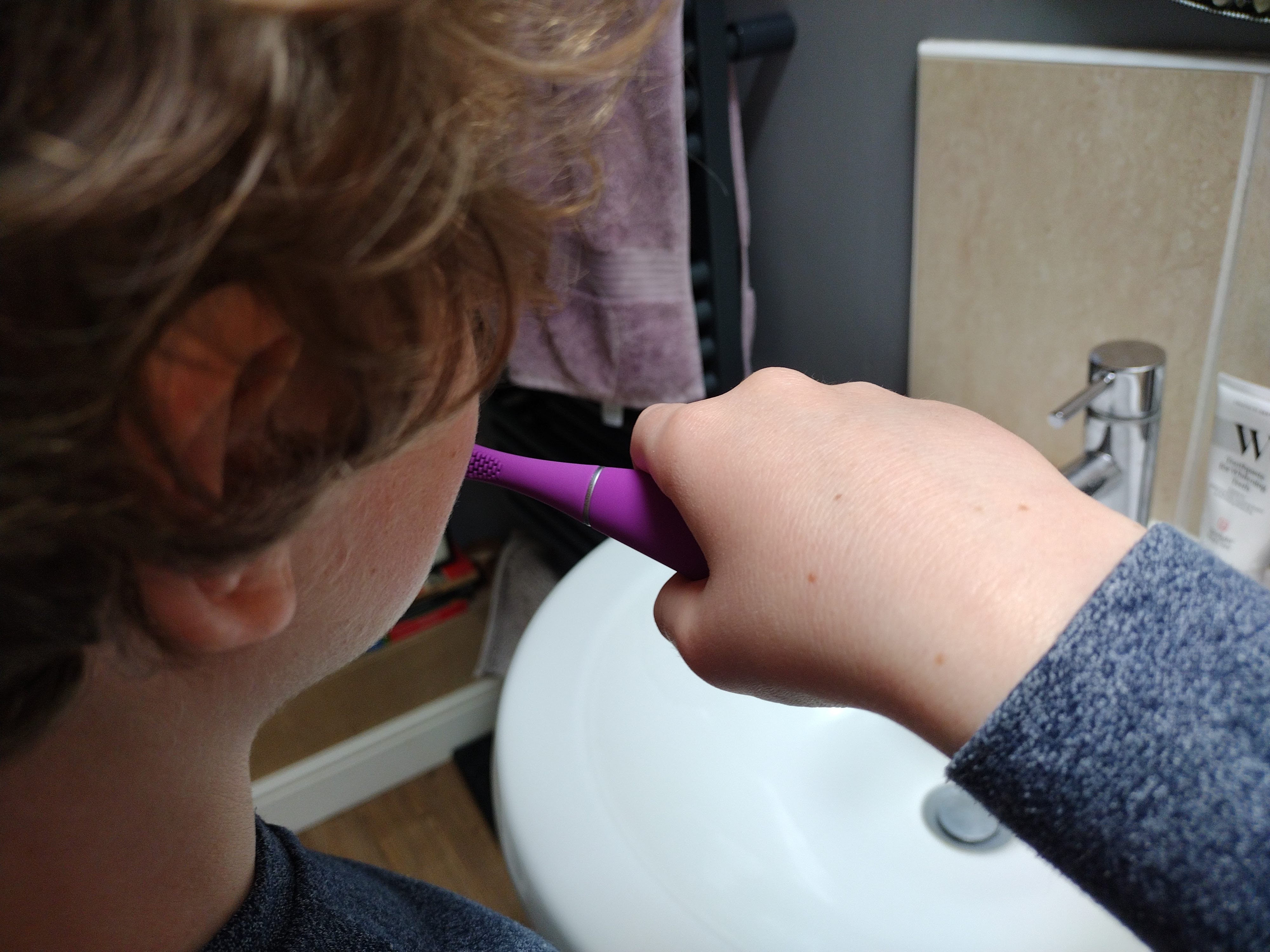 Foreo ISSA Kids review: User reviews
It was hard to track down many user reviews of the Foreo ISSA Kids toothbrush. Those we could find on Amazon and the Foreo website though were largely very positive, with many parents giving it a full five stars. They praise its gentle cleaning, especially on sensitive gums and teeth. They also like the happy and sad faces that encourage your child to brush for longer, and more regularly. 
Negative reviews tend to focus on how expensive the toothbrush is, and some parents say they didn't expect to shell out so much for a sonic toothbrush that you have to move around manually. 
Should you buy the Foreo ISSA Kids?
There's no doubt that the high price of this toothbrush makes it a big investment. However, it's robust enough to last for several years, and its ability to run for so long on a single, short charge will also save money over time. If you're looking for a toothbrush that looks and feels great, while giving a gentle but effective clean, the Foreo ISSA Kids could be the one for you.  
Foreo ISSA Kids review: If this product isn't for you
If you'd prefer a sonic toothbrush that doesn't need to be moved around the mouth manually, check out the Philips Sonicare for Kids electric toothbrush. It's suitable from three years old, features a quadrant pacer and 2-minute timer, plus a smaller toothbrush head for younger kids. It also comes with a free accompanying app to help your child improve their brushing technique. 
If you prefer an oscillating-rotating toothbrush, the Oral-B Frozen Kids toothbrush is suitable for children as young as three years old. It also features a quadrant pacer, built-in timer and two brushing modes.
For a fun-filled brushing session, the colorful BriteBrush claims to transform your child's brushing technique with Smart sensors that detect how and where your child is brushing. Be prepared for a noisy time though.