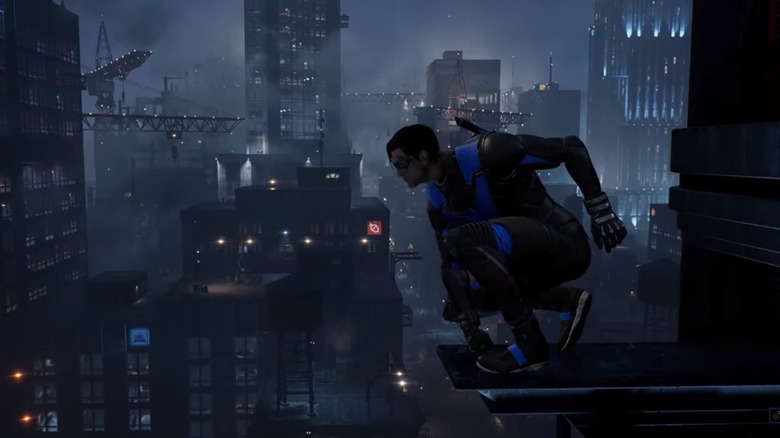 (Superhero Bits is a collection of stories, updates, and videos about anything and everything inspired by the comics of Marvel, DC, and more. For comic book movies, TV shows, merchandise, events, and whatever catches our eye, this is the place to find anything that falls through the cracks.)
In this edition of Superhero Bits:
Get a glimpse at the "Gotham Knights" gameplay.
Benedict Cumberbatch isn't nearly done with Doctor Strange.
"Supergirl" season 7 was pitched to The CW (with a twist).
An update on the Ezra Miller/Flash situation.
Young Justice: Phantoms Poster Welcomes Back Nightwing
The final arc of "Young Justice: Phantoms" is set to debut on HBO Max this Thursday, so the folks at DC have released a brand new poster for the animated series ahead of its return that offers us a little glimpse at what's to come. Specifically, Dick Grayson, aka Nightwing, will be making his return to the show, and he's front-and-center in this latest poster. How, precisely, will the hero factor into the final arc of this season? Tune in to find out.
Supergirl Season 7 Was Pitched To The CW … Without Melissa Benoist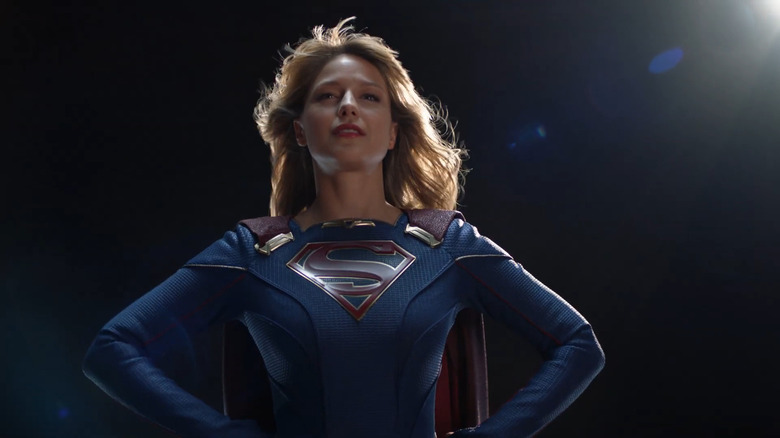 "Supergirl" ended its run on The CW after six seasons, but, as it turns out, a seventh season was at least pitched to the network — albeit one without Melissa Benoist returning. At a recent UK convention dubbed The Ultimates (via Screen Rant), series writer Jessica Queller revealed during a panel that a pitch was made to the network to make "Supergirl" season 7 happen, but without Benoist returning in the lead role. Benoist apparently originally had a seven season contract, but things were contracted to wrap it all up in six. The CW opted to pass on a continuation of the show without Benoist, and it's not hard to see why they would. What is a show called" Supergirl" without its lead character?
Doctor Strange In The Multiverse Of Madness Unboxing Video With Xochitl Gomez
The folks at Marvel have revealed a new video that sees "Doctor Strange in the Multiverse of Madness" star Xochitl Gomez unboxing some merchandise related to the film. Gomez, who plays America Chavez in the MCU's latest adventure, appears delighted as she unboxes items such as a Funko! Pop figure based on her character, among other things. This more or less serves as a glorified ad for stuff people can go buy right now, but it is charming to see Gomez get excited about these things. Check the video out for yourself above.
Elizabeth Olsen Weighs In On Wanda Killing In Multiverse Of Madness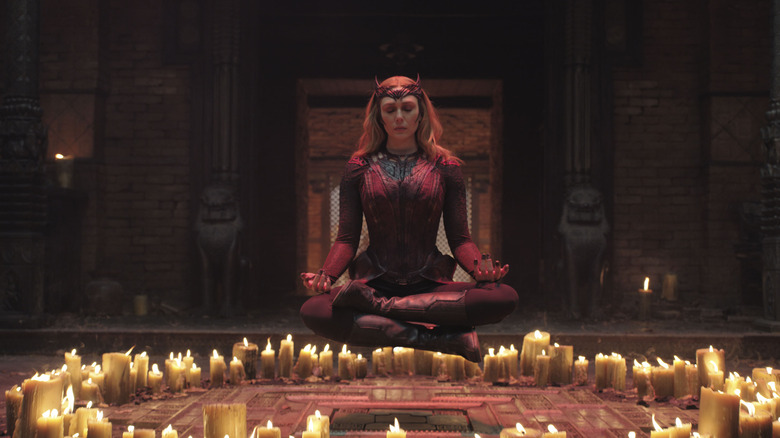 Spoilers for those reading this who perhaps haven't seen the latest Marvel movie yet, but Elizabeth Olsen's Wanda Maximoff/Scarlet Witch takes a pretty dark turn in "Doctor Strange in the Multiverse of Madness." So much so that she racks up a pretty impressive body count, not just in terms of the amount of people she kills, but also who she kills. Speaking with Variety, Olsen said the following about it:
"I — I was — I was also supposed to kill more. I had a hard time with it. I was like, these are human beings and Wanda is okay with ending their lives? But I just had to buckle down and think all these people are in her way and she's warned Doctor Strange not to get in her way. And he did. He didn't listen. And so I just had to go from that point of view."
It's kind of amazing to think the body count was going to be even higher, because it didn't exactly seem like this version of Wanda was holding back. Don't mess with the Scarlet Witch, apparently.
Director Taikia Waititi Praised Thor: Love And Thunder, Jemaine Clement Noticed
Big websites face a lot of pressure to cover big films from just about every angle imaginable, especially when those sites focus on a specific topic. Such is the case with The Direct, and the site recently ran a little quote from director Taika Waititi that made it seem like he was giving his own film, "Thor: Love and Thunder," a glowing review. Well, Waititi's friend and collaborator Jemaine Clement of "What We Do In the Shadows" fame noticed and shared his delightfully tongue-in-cheek response on Twitter. Taika, for his part, responded to the tweet saying, "Lol I've been in America too long. Also, maybe stop googling Taika news and finish those scripts you owe me?" Friendship is magical.
No, Dylan O'Brien Is Not Replacing Ezra Miller In The Flash Movie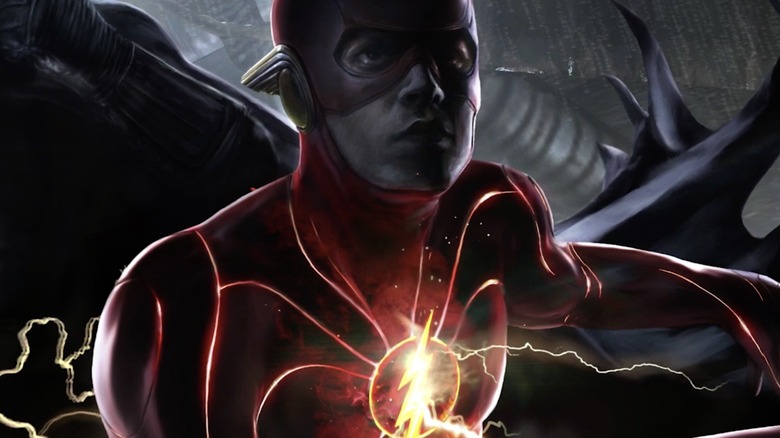 Social media was set ablaze recently when rumors began circulating suggesting that Dylan O'Brien ("The Maze Runner") was going to replace Ezra Miller in "The Flash" movie due to Miler's recent troubles, including two different, highly public arrests in Hawaii. However, a pair of industry insiders in the form of The Wrap's Umberto Gonzalez and Variety's Adam B. Vary have taken to Twitter to debunk those reports. Vary stated:
"I'm told that WB is *not* considering replacing Ezra Miller on THE FLASH. Miller was arrested twice in Hawai'i this year, once for disorderly conduct and harassment, and again for second-degree assault. It is also worth noting that THE FLASH finished shooting months ago, and Ezra Miller plays multiple versions of Barry Allen. Replacing them would effectively mean reshooting the entire film."
Gozalez, meanwhile, simply said the following:
"No, Dylan O'Brien is NOT replacing Ezra Miller in THE FLASH. The movie wrapped more than 5 months ago."
So there we have it. Even if Warner Bros. wanted to do something like this, the logistics of it are just simply impossible. As for what happens to Barry Allen beyond this movie? That is a different question entirely.
Dave Bautista Says Goodbye To Drax
"Guardians of the Galaxy Vol. 3" recently wrapped filming and it is going to be the end of an era for the MCU. To that point, Dave Bautista recently shared a photo with the cast, as well as director James Gunn on Instagram, discussing his feelings on the matter. The caption as well as the hashtags, particularly #GoodbyeDrax make it seem as though the wrestler-turned-actor is very serious about moving on from this character following the release of the third entry in the trilogy next summer. All good things must … well, you know.
Benedict Cumberbatch Has A Lot More Doctor Strange Left In Him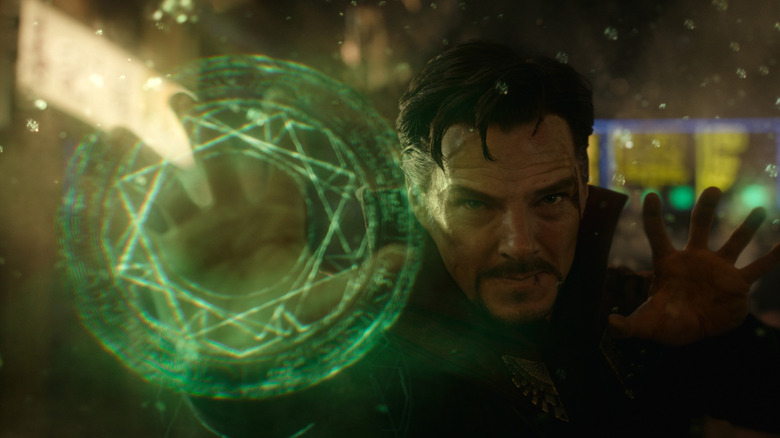 Those who are wondering what Benedict Cumberbatch's future in the MCU might look like beyond the "Multiverse of Madness" should know that the actor is not remotely tired of playing the magical superhero on screen — at least not yet. In a recent interview with Total Film (via Culture Crave), Cumberbatch explained that he is still finding a lot of joy in playing the role and is very much interested in continuing on for a while.
"I'm not tired of it all yet. I really enjoy playing this character, and I've still got a lot left to give as him, and a lot more adventures I want to have with him."
Now, whether or not Disney wants to pay Cumberbatch what his going rate is going to be following the box office success of both "Spider-Man: No Way Home" and "Multiverse of Madness" remains to be seen. But this very much seems like a "pay the man" situation from the outside looking in.
Gotham Knights Gameplay Demo Featuring Nightwing And Red Hood Gotham Knights Gameplay Demo Featuring Nightwing And Red Hood
Lastly, today brings us a brand new extended look at the long-awaited "Gotham Knights" video game in the form of an extensive gameplay video. This was first announced during DC FanDome in 2020 and has since been delayed several times, but it will finally be with us in a handful of months. Game director Geoff Ellenor kicks things off and proceeds to take viewers through a decent chunk of the game, using Nightwing and Red Hood, two of the main playable characters, to demonstrate what players can expect. It looks to be every inch the game fans of the Bat-family have been hoping for, and we also get a pretty nice look at the Court of Owls in action as well. "Gotham Knights" is currently slated to arrive on October 25, 2022.
Read this next: Batman Movies Ranked From Worst To Best
The post Superhero Bits: Gotham Knights Gameplay, Benedict Cumberbatch's Future As Doctor Strange & More appeared first on /Film.