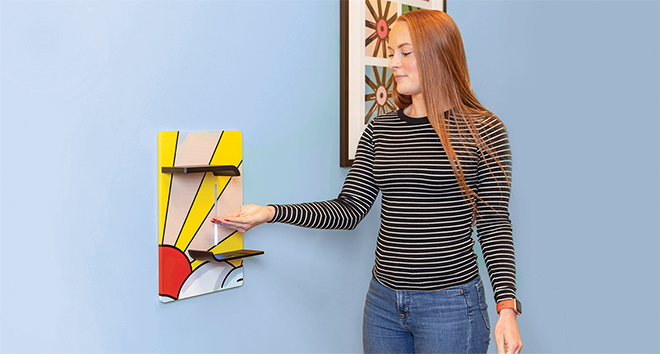 No one is more concerned about hand hygiene than healthcare workers. As they see an ever-increasing number of patients, Vaask's touchless hand sanitizing fixture couldn't come at a better time. Honored as the overall winner in Healthcare Design's Product Innovation Awards, Vaask is built to last and dispenses the right amount of sanitizer every time.
Among the comments from judges, "Vaask really stood out from the rest of the entries. It's a striking, elegant and inviting design, and it addresses a very critical hygiene issue within healthcare environments."
Reliable performance
Developed with healthcare professionals, Vaask is the dependable, high-capacity and low-maintenance dispenser that healthcare facilities require.
AC power or POE (no batteries required)
Cast aluminum and steel; 5-year warranty
PalmPilot® sensor that precisely detects hands
Large-capacity, refillable sanitizer cartridge
Customizable colors, metals and graphics
Recessed, wall-mounted or freestanding
Behind each of these differentiating features is a focus on advanced technology, designed to create a simple, reliable experience with less work for today's overtaxed maintenance crews. Vaask incorporates a high-end stepper motor and peristaltic pump in its design, ensuring that it dispenses the correct amount of sanitizer every time, tracks usage to alert you via an exterior LED panel and an online dashboard when it's time to refill, and can be refilled with Vaask's premium sanitizer or any quality gel sanitizer. You'll never be locked into expensive long-term supply contracts.
Vaask's proprietary PalmPilot sensor accurately detects hands, eliminating mess. The PalmPilot technology measures the speed at which light photons leave its sensor and return. Because the component measures speed rather than light, the PalmPilot sensor functions even in spaces where dust can be an issue and detects hands of any shade that would otherwise flummox everyday infrared sensors.
Built to last
Vaask helps sustainably minded companies achieve their goals. Backed by a 5-year warranty, the U.S.-manufactured fixture features all-metal construction and replaces the endless array of single-use plastic hand sanitizer bottles. Selected for its quality manufacturing and superior coating options, the cast aluminum allows for customizable colors and graphics, so your company can proudly brand your Vaask dispensers to showcase a sincere commitment to cleanliness.
"This is a beautiful product which clearly illustrates how design can transform everyday items," wrote a judge for Healthcare Design's Product Innovation Awards.
Vaask is also easy to maintain. The refillable cartridge contains nearly twice the sanitizer of typical dispensers, requiring less frequent refills.
Making hand hygiene easy
The animation in Vaask's customizable LED panel beckons users, encouraging the kind of frequent use that helps reduce the spread of germs — crucial since our hands transmit 80% of illnesses. And after a reliable dispensing of Vaask's gel sanitizer, the user appreciates a lovely fragrance, in total resulting in a positive experience.
"The design of this product is outstanding and makes the necessary hand sanitizer station look appealing and less clinical," another Healthcare Design judge wrote.
Vaask earned honors from TIME's Best Inventions with judges praising the company for giving hand hygiene "the kind of design attention that the rest of a modern workplace gets."
Get best practices for placement at vaask.com/healthcare-design.