On Wednesday (June 7), the air quality in New York City was the worst of any major city in the world, due to smoke billowing over the northern U.S. border from wildfires in eastern Canada. With wildfires predicted to become more commonplace with climate change, the alarming pollution could be a sign of what's to come.
The National Weather Service first issued an air quality alert for New York City on Tuesday (June 6); this alert will remain in effect until the end of Thursday (June 8), but could be extended if necessary. By Wednesday afternoon, an intense yellow-orange haze hung over the city. Pollution from wildfire smoke consists of tiny particles, called particulate matter (PM), that can cause damage to the respiratory system when inhaled.
"We recommend all New Yorkers limit outdoor activity to the greatest extent possible," New York City Mayor Eric Adams said in a statement Tuesday. "Those with pre-existing respiratory problems, like heart or breathing problems, as well as children and older adults, may be especially sensitive and should stay indoors at this time."
The current air pollution cloaking the city comes from more than 200 forest fires burning in eastern Canada.
Related: Wildfire smoke spreads across US in striking images from space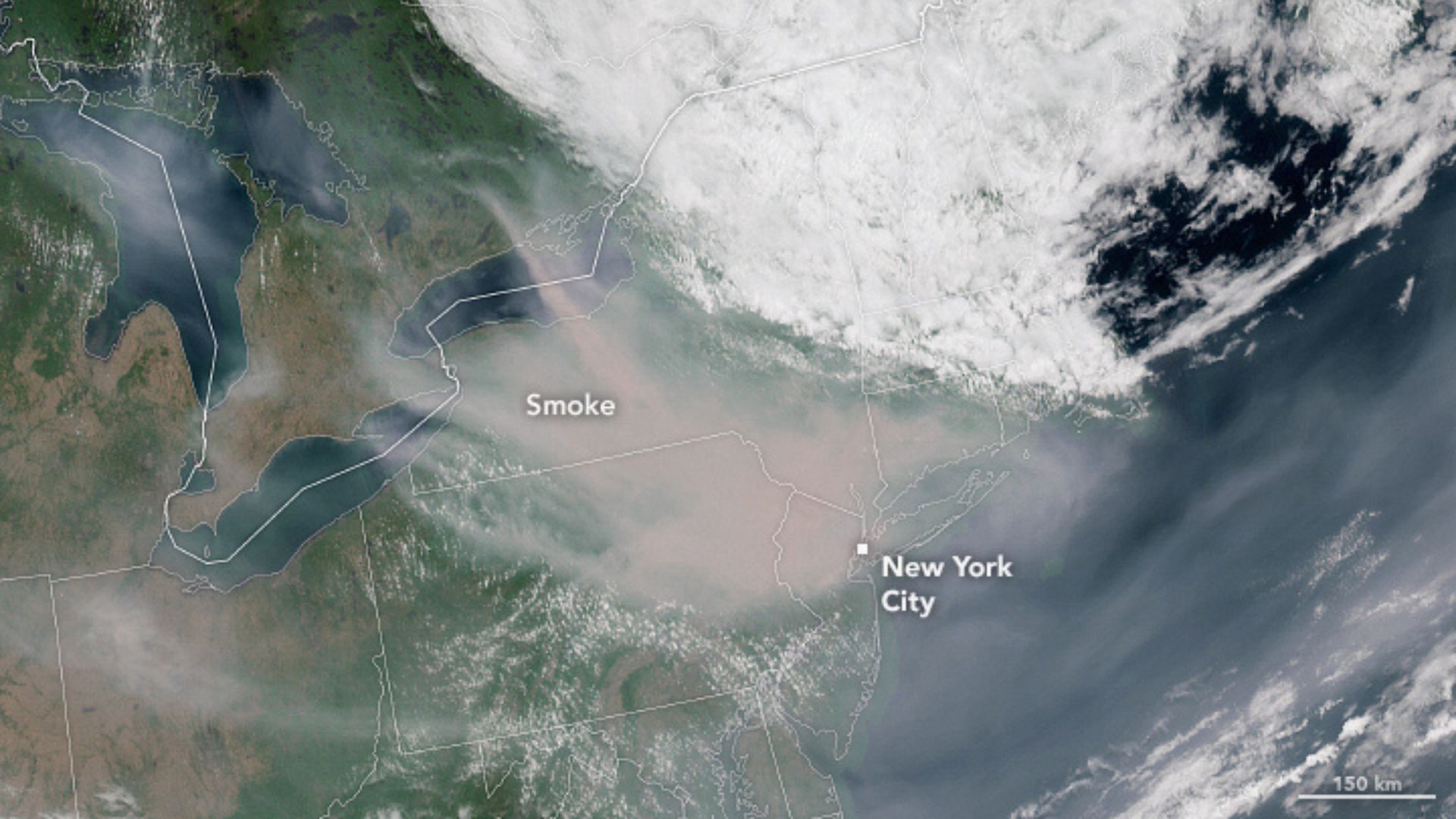 Winds from a weather system off the coast of New England set off a flow of smoke southeast from Canada, directly toward New York, Cheila Avalon Cullen and Neal Phillip, environmental scientists at the City University of New York (CUNY), told Live Science in an email. 
Heat from wildfires can push smoke high into the atmosphere, where it is less impacted by weather, Daniel Westervelt, an associate research professor at Columbia University's Lamont-Doherty Earth Observatory, told Curbed. Other types of particles in the atmosphere would fall to Earth with rain fairly quickly, he said. But this process has allowed smoke to persist across the more than 300 miles (480 kilometers) from southern Quebec to New York City.
"Looking at the … upper air flow map that guides weather systems at the ground, it can clearly be seen that the flow lines are coming straight down from Canada and then curves towards the east coast and NYC," Cullen and Phillip said.
Wildfire smoke contains a type of particulate matter called PM2.5, so called for its minuscule size, which is less than 2.5 microns wide. (A micron is one-thousandth of a millimeter.) In the short term, exposure to high amounts of PM2.5, also called "fine" particulate matter, can cause coughing, nose and throat irritation, and shortness of breath, and it can worsen asthma and heart disease, according to the New York Department of Health. Long-term exposure, defined as months to years, is associated with increased chronic bronchitis, hospital admissions and deaths from conditions such as lung cancer and heart disease.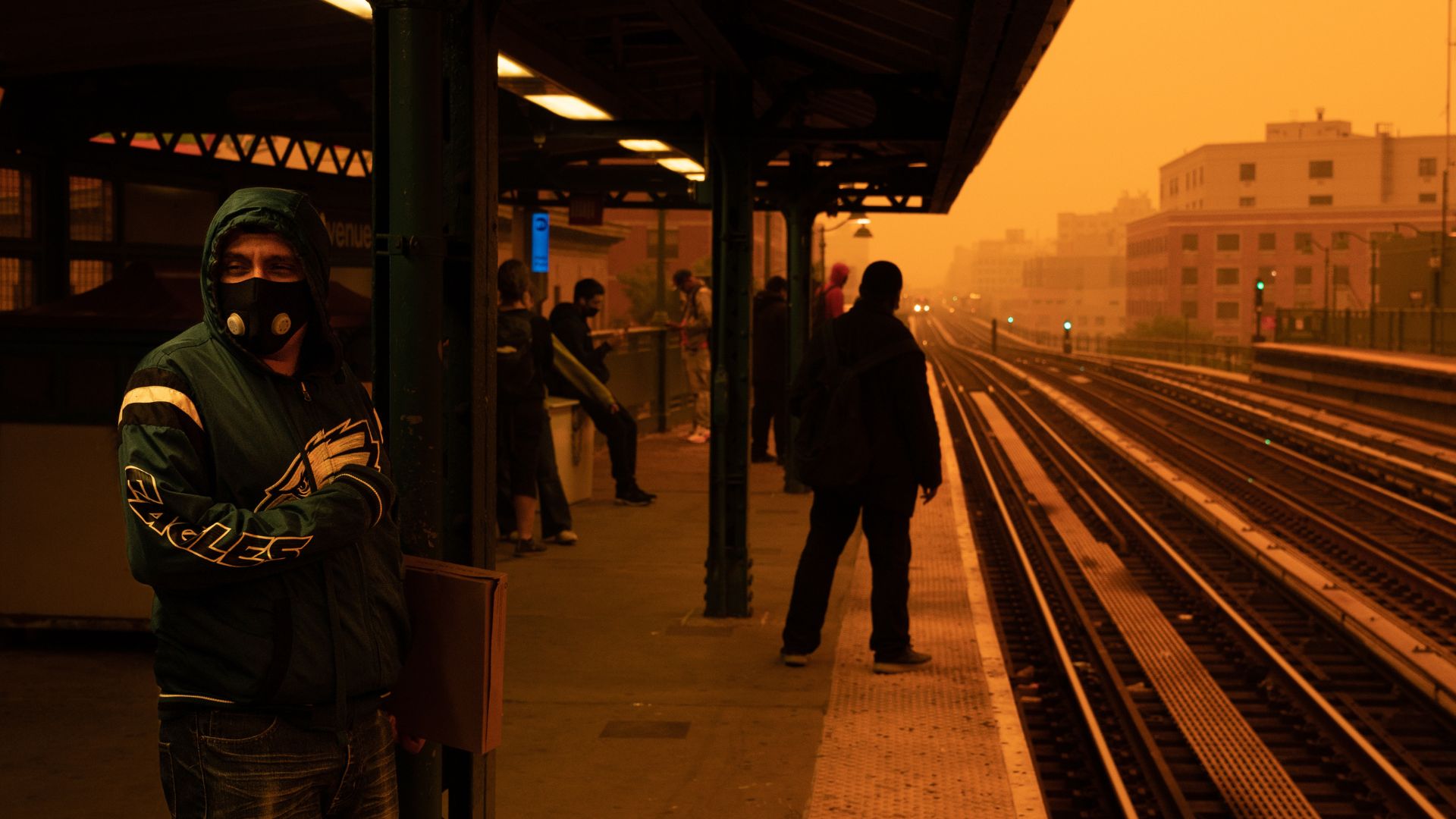 Besides wildfires, other sources of PM2.5 include traffic pollution and cigarette smoke. Phillip and Cullen said that daylong exposure to an air quality index (AQI) of 300, which New York City far exceeded on Wednesday, would be similar to smoking 15 cigarettes, according to a model developed by researchers at Stanford University. AQI is an air quality measurement that incorporates several types of air pollution, including levels of PM2.5, ozone, carbon monoxide and sulfur dioxide. The scale runs from 0 to 500, with 0 to 50 being "good" air quality and 301 and higher being "hazardous." 
The air quality in the city on Wednesday was unprecedented, breaking the record for the worst air quality since the city started keeping records in 1999. The AQI in New York City is typically between 15 and 40, which is considered "good," Cullen and Phillip said.
While many people in the Northeast may not have experienced smoke pollution from wildfires, it's common in much of the western U.S. during warmer months. For instance, wildfires in Alberta in late May impacted air quality in several northwestern states, such as Montana, Colorado, Idaho and Utah, and wildfires are becoming increasingly common in western states, especially California. 
But although wildfire smoke has been historically uncommon on the East Coast, climate change is predicted to increase the severity and frequency of wildfires all over the country and the world, according to the U.S. Environmental Protection Agency.
While New York's air has cleared somewhat since the smoky haze descended on the city, the AQI on Thursday was still at unhealthy levels, between 130 and 200, and it's predicted to get worse Thursday night, according to the National Weather Service. 
While it's difficult to predict exactly when the air quality will improve, the smoke should start to clear in the next few days. An AQI monitoring website run by the World Air Quality project forecasts that the air will start to clear by Friday, while the Weather Channel forecast predicts it will begin to clear over the weekend.
"Although the Canadian forest fires will most likely continue burning, we [in New York] will get some relief once the air pattern aloft goes to a more west to east flow pattern," Cullen and Phillip said. "Currently it has a north to south pattern which is funneling all the smoke down from Canada."